Consistory
The Consistory (also sometimes referred to as Church Council or Church Board) is made up of elders, deacons, and pastors.) We, in Calgary FRC have presently three elders and two deacons, and one pastor. Our office bearers are not self-appointed men, but confessing members of the church, called to serve by God through the consistory and church. The Consistory is responsible for the government, spiritual care, diaconal care and godly discipline of the church. A faithful consistory seeks always to serve in the name of Christ, according to the Word of the Lord, and after the manner of Christ. What a blessing when there is spiritual unity and godly focus among the leadership in the church, (Psalm 133). This is always something to pray for and to cultivate and never to take for granted.
Our church pastor is Pastor Hans Overduin. You can contact him either at 403-259-6591 or 403-771-8980 or email at hans.overduin54@gmail.com
Our church clerk can be reached by email at clerk@calgary.frcna.org
Our Pastor: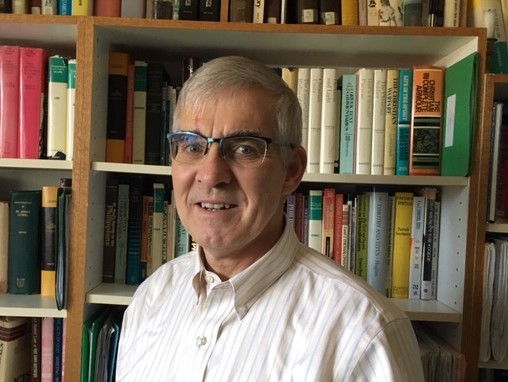 Pastor Hans Overduin was ordained to the ministry in November 1986.  Having served in Chatham, Ontario and Chilliwack, British Columbia, he came to Calgary in 2009 and was installed as minister of the gospel on  September 4 in the Calgary Free Reformed Church. His desire is to proclaim the truth of the gospel in submission to the Holy Bible, and in line with the helpful Scripture-based summary teaching of the Reformed Confessions [especially the Belgic Confession, Heidelberg Catechism, and the Canons of Dort]. His prayer is that God will bless the ministry of the Word that the church where he serves be a living church, a loving church, and a church that is a light in the community, truly "holding forth the word of life" (Philippians 2:16a). He and his wife, Nelly, have six children and are also blessed with many grandchildren.